Jackson C. Frank
Earmark Records EA42030LP (2004)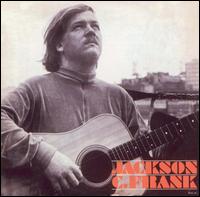 Album available as:-
(Castle Music CMRCD 366)(Earmark EA42030LP)
A 180g re-issue of the Colombia 33SX 1788 album from Earmark, a joint venture between Sanctuary Records Group and Get Back Records of Italy. Quality is pretty poor for a 180g release. Seems to be another pressing of the same re-release.
When Jackson's album was released it was enthusiastically receieved by the folk community and media. John Peel, a BBC radio DJ, played it so many times on his radio shows and got so many requests from it that he invited Jackson to his studio to do a live radio broadcast. Jackson also made numerous appearances on television promoting songs from the album, and soon he was a famiular figure in most of the large clubs and coffeehouses throughout the United Kingdom. It seemed Jackson star was burning bright and that his future in music was assured.
- T.J. McGrath
I recorded my album in under three hours in a CBS studio on New Bond Street in London. I remember hiding behind a screen while I was singing and playing, because I was just a little nervous and I didn't want anyone to see me. 'Blues Run the Game' didn't take long to record. 'Don't Look Back' was inspired by a murder down south and how the criminal was free on bail. Back in the 1960s there was a lot of injustice down in Alabama, so the song deals with white and black issues. It's my one and only protest song.
'Kimbie' is a traditional song, and I gave it my own touch. I heard the song a lot when I was traveling up in Canada, so I decided to include it on my album, too. Paul was including a lot of traditional material like 'Parsley, Sage' in his performances, and I wanted to use an old melody, too. 'Yellow Walls' is about an old house I used to live in near Buffalo. It's about leaving home and taking off for the big cities and colored lights. Al Stewart can be heard doodling in the back on guitar. He never received proper credit for that, I'm afraid, but that's him.
'Here Come the Blues' is pretty much a straight-ahead attempt at writing a blues song. It's got some good chord changes. I've always liked 'Milk and Honey.' I know Sandy Denny's version, and it's great. If you listen to my recording, you can hear a real blooper. I wanted to say 'four' seasons, but it came out 'three.'
'My Name is Carnival' is one I'm still very proud of. I'm surprised that it wasn't picked up as cover material because it's got a great tune and the lyrics are interesting. The song points out the bittersweet nature of being part of a traveling circus. My first attempt to do a very serious song was 'Dialogue,' a song that seems like cabaret now. I was headed toward a European influence with weighty lyrics. In the other direction, 'Just Like Anything' is a pure nonsense song. I was aiming for a some comic relief after 'Dialogue.' The last song on the album, 'You Never Wanted Me,' is all about a break-up in a relationship.
- Jackson C. Frank
Track Listing:
1 Blues Run The Game (Frank) 3:34
2 Don't Look Back (Frank) 3:01
3 Kimble (Trad. Arr: Frank) 3:19
4 Yellow Walls (Frank) 3:01
5 Here Come The Blues (Frank) 4:04
6 Milk And Honey (Frank) 3:41
7 My Name Is Carnival (Frank) 3:47
8 Dialogue (Frank) 3:20
9 Just Like Anything (Frank) 2:26
10 You Never Wanted Me (Frank) 3:12


Jackson C Frank - Guitar, Vocals
Al Stewart - Lead Guitar track 4