Jackson Again
B&C BCLP4 (1978)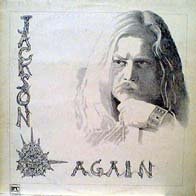 Album available as:-
(Castle Music CMRCD 366)
(Reissue of Columbia 33SX 1788)
Released in 1978 Jacksons first and only ablum was reissued in stereo. Contains the same songs that are on the orginal release. I have seen both the first and second release listed for $900(US) in record stores. For all those record collectors out there like me it's the holy grail.
Jackson C. Frank's first album, Jackson C. Frank [Columbia 33SX 1788 (1965)] was repackaged and reissued as Jackson Again on B&C Records in 1978. The back sleeve has a letter from Frank to Karl Dallas, an English music critic, describing his non-existent career.
Original transcript from sleve notes.
Hi Karl-----
As a native of Woodstock these last more or less twelve years I have produced a noticeable affect on the matter of work, I only do, in most part, what I wish to.
I was born in 1943 in Buffalo New York and headed with my family to a wartime world in Elyria, Ohio... big house, chickens in the backyard and country and western on the radio 24 hours a day. I began singing somewhere in that time.
There is a Dukedom in my background and several relatives in Ireland, France, Canada... who knows? Africa?

I began seriously to consider music as a passion after being nearly burned to death in a school fire during music class. 50% of the class did not make it out of the venue. This resulted in being crippled for life with a rare though traceable malfunction and a record player and Burl Ives records while recuperating in 1954. It had me from then on, in a folk sense.
In 1957 or so the family was collecting Elvis records and we wound up on a trip down south at his home. I got a private meeting with Elvis and was zonked. White blues. music anticipating little follow-along writers like Mailer -- 'The White Negro'... well.
Receiving a set amount after being put out of whack permanently i bought guitars, many guitars, and tickets to places like London. 1965 was the year I first came to England and I had just begun writing songs consistently at that point. I still remember someone saying 'Well, you are a singer-songwriter, Why didn't you stay in America? Look at Dylan.' And I replied 'The reason I didn't stay was that I looked at Dylan.'

Somehow then, at that time, It made sense. I have been interested in writing all my life. Perhaps it is a more enduring desire than singing and jobs have ranged in the word game for me from copy boy to editor on various papers and I have been publicist, ad man, reporter, dictation clerk, short-story, novel and poetry writer. I really would not like to leave all this without a solid crack at a full-length work, I guess it is a moral retentive. In 1968 I returned from London in the middle of cutting a record, which didn't survive the departure, and after discovering and aiding in obtaining their first record for two fellows named Andrew Lloyd Weber and Tim Rice (Jesus Christ!) I lay back to see what the tide brought in. I worked in leather. I played my guitar. I was lonely (as in divorced).
Then I got sick.
Now I am better.

I have been at the start of several unanimously acclaimed (later) events, as most of you who are reading this have, and really can't get them all unjumbled enough to start and stop and fill up in between sensibly. I have had tremendous respect for writers I have known in England and have followed their careers to the exclusion of proper sensibilities as regards my own. Maybe I could make that the reason I got sick. No. Nobody would believe it, 'sides, it isn't true you see, stricktly speaking. Anyway, life in the mountains here is serene and I have produced some works I wouldn't swap for a ride on the Old Queen E. In fact I have had some second thoughts, eventually over-ridden as to whether I should not just hoard them all up and be discovered somewhere after the grave, even maybe not then. That is the cornerstone, which is a poor but noble object, to dig erosion.

The moments change, the world recedes, condcedes, and all the time I can remember where I have been. A friend has just produced a book here in which he symbolizes 'it all' by saying that 'the secret is that there is nothing to be gained...' and 'Memory cannot change a thing' and he makes me proud to know that we are in the midst thereby of the tail end of the learning process... that sublime moment when we start to unravel the web which is in fact our only garment. The seventies served as a prelude-radar range to the steak we had just claimed at the check-out of 1969. Now everybody can be a master of Eastern religion AND work in Bethlehem Steel. What happened? Is it time for me to come out again? Are my words, my songs, 'relevant'? Is 'discriminate' once again a word and not a hot concept? Is Julian Jaynes freeing the masses from their metaphysical drunk? Nonetheless, the moments change and I see in my passing eye that memory prelude to these words. Soho Square, the little Tolkien-booth and a statue once new and arabesque curled, a king I think, whose features even then, back in my memory, were nearly gone from time, but whose considered opinion must have been that it was worth it, even looking like a calcined ice cream cone melting into his original place. A king, a king of England, preferably when he was young.

I am emerging from the years of quiet in a backwards-forewards rocking motion, always the best for leaving a cocoon, and hope to see the effort of it's only deserved end of presentation. Once the world was burning and now the world is old, once the singing meant me but the story must be told. So, at this presentation of old days which etched and always drew one in finer and finer line to appreciate the hand which held the moment, and in memory of those who have some small interest in the passing scintillion urge to final history, thank you for allowing me to burn in ways I had joy and hope and control over, my youth with you and once young king.
Jackson C. Frank
Track Listing:
1. Blues Run The Game (Frank) 3:34
2. Don't Look Back (Frank) 3:01
3. Kimble (Trad. Arr: Frank) 3:19
4. Yellow Walls (Frank) 3:01
5. Here Come The Blues (Frank) 4:04
6. Milk And Honey (Frank) 3:41
7. My Name Is Carnival (Frank) 3:47
8. Dialogue (Frank) 3:20
9. Just Like Anything (Frank) 2:26
10. You Never Wanted Me (Frank) 3:12


Jackson C Frank - Guitar, Vocals
Al Stewart - Lead Guitar track 4