Fruit Tree II
Ridgeway RDRB 1 (2002)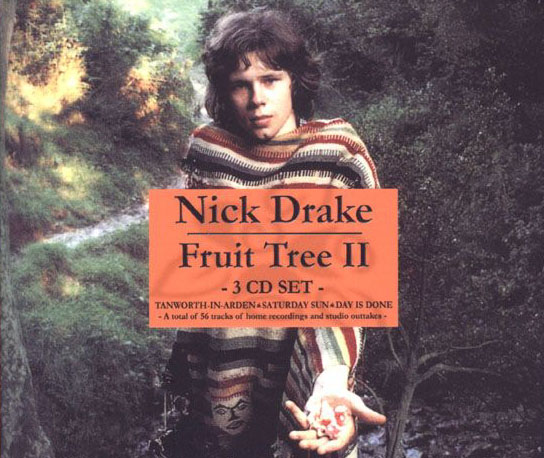 Album available as:-
N/A
For more photos of the CD click here.
This is an absolutely stunning box set of CDs chronicling every non-album track that Nick Drake has been known to commit to tape. This set features every track from "Tanworth In Arden", "Tanworth In Arden 2", a plethora of recently discovered and previously unreleased tracks, AND "Fruit Tree", the fantastic hour-long BBC radio documentary on Nick, hosted by his one-time bass player Danny Thompson. The CDs come housed in a lovely full-colour fold-out book-style case. There are three CDs cases in the box, the third housing two CDs, "Day Is Done" and the BBC radio documentary.
The first disc is Tanworth In Arden: The First Home Recordings 1967-68 is the original Nick Drake home recordings collection, named after the small town where he grew up. Intimate and introspective, this is indispensable listening for any fan. It mostly comprises covers of songs by artists Nick was listening to at the time, with a few Nick originals at the end and one previously unreleased track.

The second disc is entitled "Saturday Sun: The 1969 Work Tape Demos".
This is a superb collection of home demo recordings of tracks that would later show up on "Bryter Layter" and "Pink Moon", as well as instrumental "works in progress", augmented by two fascinating "1st takes" from the Five Leaves Left sessions. The CD contains a hidden track number 18 which is a six-minute BBC radio interview with John Martyn about Nick Drake. John was a friend of Nick's and his brilliant song "Solid Air" was a tribute to Drake.
Disc three is entitled "Day Is Done". While most of the songs on the first two discs have appeared elsewhere in the past, this third disc is the real treat here...it contains newly-discovered home recordings and studio out-takes from 1967 to 1974.
All the home recordings on this CD are sourced from speed-corrected 1st generation tapes to provide optimum sound quality.
Track Listing:
CD1
1. Get Together (Dino Valente)
2. Been Smoking Too Long (Robin Frederick)
3. Don't Think Twice, It's Alright (Bob Dylan)
4. If You Leave Me (Pretty Mama) (traditional)
5. Courting Blues (Bert Jansch)
6. My Sugar So Sweet (traditional)
7. Strollin' Down The Highway (Bert Jansch)
8. Blues Run The Game (Jackson C. Frank)
9. Winter Is Gone (traditional)
10. Here Come The Blues (Jackson C. Frank)
11. All My Trials Will Soon Be Over (traditional, duet with sister Gabrielle Drake)
12. Tomorrow Is Such A Long Time (Bob Dylan)
13. Cocaine Blues (Luke Jordan)
14. Milk And Honey (Jackson C. Frank)
15. Summertime (Gershwin/Heyward)
16. Black Man Blues (J.C. Johnson)
17. Nick's Monologue (Nick speaking into a microphone at home late one night)
18. Betty's Blues (Unknown)
19. Bird Flew By (Nick Drake)
20. To The Garden (Nick Drake)
21. Blossom (Nick Drake)
22. My Love Left With The Rain (Nick Drake)
CD2
1. Time Has Told Me (Studio Take 1)
2. Fly
3. Place To Be
4. Hazey Jane
5. Parasite
6. Parasite (take two)
7. Poor Boy
8. Time Has Told Me
9. No. 1 (Guitar)
10. No. 2 (Guitar)
11. No. 3 (Guitar)
12. Voice From The Mountain
13. No. 4 (Piano)
14. No. 5 (Guitar)
15. No. 6 (Piano)
16. No. 7 (Piano)
17. Saturday Sun (Studio Take 1)

CD3
1. The Thoughts Of Mary Jane (arranged by Richard Hewson)
This requires a little explanation. Originally it was suggested that producer Joe Boyd use Richard Hewson, the house arranger at Apple Records (who had arranged the strings on The Beatles "Long and Winding Road" and James Taylor's debut album), to do the string arrangements on "Five Leaves Left". However, after working on a handful of songs, Nick decided that Hewson's arrangements weren't suitable for the songs and instead he brought in his Cambridge friend Robert Kirby to do the arrangements. The rest is history...the arrangements were stunning and Five Leaves Left is an all-time classic. It's amazing to think what a different album Five Leaves Left would have been without Robert Kirby, and this track, along with "Day Is Done" (track 17) give a fascinating glimpse of that scenario. Both arrangements are COMPLETELY different from what Kirby came up with, and the effect on the feel of the song is huge. Also, it's not just the arrangement that's different; this is a completely different early take from the very beginning of the "Five Leaves Left" sessions.
2. Mayfair (take one)
3. Mayfair (take two)

4. Mayfair (take three)
5. Day Is Done (home recording from early 1968)
6. Free Ride (instrumental)
This is actually a variation on "Free Ride". Much of the guitar part is the same as "Free Ride", but whole sections are completely different.
7. Joey (aborted take...home recording from mid-1968)
8. Joey (alternate take)
This later home recording is the only known recording of Nick playing a 12-string guitar.
9. Leaving Me Behind
One of Nick's earliest songs, written in 1967. This recently unearthed home recording was previously thought to exist in lyric form only. There are four other songs from this time which are thought to have accompanying home recordings. These recordings have never been found.
10. Saturday Sun (take one)
11. Saturday Sun (take two)
12. Saturday Sun (take three)
These three are all home recordings from early 1968.
13. Three Hours (home recording...possibly early 1969)
14. Untitled (instrumental guitar)
15. Black Eyed Dog (guitar track, alternate take)
16. Rider On The Wheel (guitar track)
This instrumental version was taken from Nick's last session in 1974.
17. Day Is Done (arranged by Richard Hewson)
This is the other mid-1968 Richard Hewson arrangement on this disc. While this arrangement is a little closer to what Robert Kirby eventually came up with, it's a lot more elaborate and sugary...the kind of thing you might have found on a Scott Walker album. It's amazing to think that these arrangements would have been used if Nick hadn't stood his ground in choosing the inexperienced and unknown Kirby to arrange the album.
This CD also features an extended "hidden track" which is uncredited on the sleeve notes. These are as follows:
18a. Full Fathom Five (Vivien Fowler on vocals, Nick on guitar)
18b. I Wish I Was a Single Girl Again (Vivien Fowler on vocals, Nick on banjo!)
18c. With My Swag All On My Shoulder (Robert Kirby on vocals, Nick on guitar)
In 1972, a UK teaching anthology record called INTERPLAY was released by Longman. Robert Kirby got Nick this gig, and Nick played on the above three songs. These recordings were only unearthed in the last year or so.