Way To Blue
Island IMCD 196 (1994)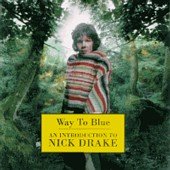 Album available as:-
(Island IMCD 196)
A selection of 16 tracks from all three of his studio albums and the Time of No Reply collection, compiled by Drake's producer, Joe Boyd. Of course the music is excellent, but Drake's albums stand so well on their own that this collection of piecemeal offerings hardly works as the best way to experience his distinctively haunting brand of folk-rock.
- Richie Unterberger (AMG)

The phone calls from people wanting to do a book or a film on Nick Drake used to come in about twice a year. Now it's twice a month. Nick died 20 years ago, but his music seems more beautiful, more apt, more attuned now than it did when it was first recorded.
I first met Nick Drake in 1968 when he arrived in my office carrying a reel-to-reel tape of songs he had demo'd at home. From the first few bars, I knew he was an unusual and rare talent. Working with him on those first two records was rewarding and fun. He was shy and quiet, but very firm about his musical opinions. I would suggest musicians and ideas, and he would mutter objections or approvals. When he started playing and singing, there was no hesitation. His fingers were incredibly strong, as you can hear from listening to the clean and precise finger picking in the unusual tunings he used.

The sound he got from his guitar was always rich and full, never a problem to record. I marvel now at the sound John Wood got on his voice - almost whispering and intimate, yet so rich and full of warm tones. The records were made over a period of months, interspersed with other projects. When they came out, they got good reviews, but his shyness about live performance meant it was hard to get his music known. In America, Leonard Cohen had achieved a poetic hit record without touring, but America had FM radio and Britain didn't. Any record without that, that didn't have a hit single, had a hard time.
As time passed, Nick became more isolated and depressed. After the stark simplicity of the Pink Moon recordings, he retreated to his parents' home in the countryside. When he recorded the chilling 'Black Dog' and three other songs as the first step to a new album, he had to overdub his voice, his confidence and concentration were so shaken. He died from an accidental overdose of anti-depressants soon after that.

In the years following his death, interest began to grow. Appreciations appeared in magazines. A steady pilgrimage to his parents' home and to Nick's grave began. His records sell far more now than they ever did in his lifetime. Articles have been written, books and films proposed. The quest to understand Nick and his music becomes more intense each year. The prophetic words of Fruit Tree have become a reality. An eerie foreshadowing of events can be heard in his lyrics. He seemed to know his destiny and he accepts it lyrically with what can be heard on occasion as wry humour.
It is hard to say exactly what it is that makes his music so timeless. He was a quietly powerful person. He would have loved the attention and the respect his music now commands, but listening to his lyrics, it seems that he just may have planned it all this way.
- Joe Boyd, March 1994 (Original sleeve notes)
In February 1972, upon the release of Pink Moon, Nick Drake's third and final album proper, the press information issued by Island Records ran, in part, thus: "Nobody at Island is really sure where Nick lives these days. We're pretty sure he left his flat in Hampstead some time ago. We have a bank agreement for him so that he's always got his rent money and some spending bread, so there's no need for him to make more appearances than he does. The chances of Nick actually playing in public are more than remote."

Baffled and in sombre tone, nothing could be further from the necessary yet unconvincing bluster of the average press release. But then nothing could be further from the average rock performer than Nick Drake. Deeply and genuinely troubled, in contrast to the well-fed and meretricious angst of others, he had no voice to speak of in what we might call his normal life. Taciturn to an almost autistic degree, so perplexed by everyday social interaction, that even a good friend like John Martyn could describe him as "the most withdrawn person I've ever met". For once, the cliché about speaking through music has real meaning, and even such speech became progressively more fraught and arduous until finally impossible. The music itself, though, as this excellent anthology demonstrates, remains unique and powerfully bewitching to a succession of new listeners, even now, 20 years after his untimely death.

His childhood was comfortable and glowingly typical of his class. Born in Burma, where his father was seconded as an engineer in the timber industry, he returned to England aged two. He grew up in rural Warwickshire, was head boy of his Surrey prep school and attended Marlborough School where he excelled in athletics. He was musical from an early age, first as a clarinettist before moving on to the guitar, and music gained significance in his life once he had gone up to Cambridge to study English Literature.

Never a boisterous extrovert, Drake was nonetheless a happy undergraduate, at least initially. He hung out with other musicians, listened to Traffic, Randy Newman, Jim Webb and The Fifth Dimension and began to develop an individual and forceful fingerpicking style. Encouraged by friends, he wrote songs and, performing these at a benefit at London's Roundhouse supporting Country Joe McDonald in 1968, was spotted by Ashley Hutchings of Fairport Convention. Hutchings introduced him to Joe Boyd: ex-Harvard graduate, former Pink Floyd producer and head of Witchseason, a respected amalgam of record label and management service, whose acts included John Martyn and The Incredible String Band. Mutually impressed, theirs was soon a close and supportive relationship, but it was nevertheless a year before Five Leaves Left would be released.

Drake, in the words of engineer John Wood, who became an ally and confidant, was "fairly shy but had a definite idea of how he wanted things to be." There were stalling problems with the string arrangements and Drake suggested his Cambridge friend Robert Kirby. Boyd and Wood were naturally dubious but bowed to Drake's quiet determination. Events proved him right.

From that remarkable debut (the title comes from the message that appeared in your Rizla pack about two joints from the end) come four of the songs on this compilation. Cello Songs pairs Drake's striking guitar style with Clare Lowther's luxuriantly Oriental cello line and is sung in that characteristic voice, more than a growl and with a different charm that's the mirror image of his friend Martyn's boozy warmth. Way To Blue, one of Drake's earliest songs, glories in Kirby's superb string setting and Drake's fragile, bookish delivery steers the melody through grave and gay passages on the way to a typically ambiguous conclusion.

Time Has Told Me and River Man contradict the flip assessment of Drake as the epitome of folkish acoustic self-absorption. The former is an elegant country blues underscored by Richard Thompson's discriminating electric guitar, while the latter is a lazy and delicious bossa nova, decorated with strings arranged by Harry Robinson, and framing a sweetly mysterious lyric. Certainly, he looked inward but his music switched style and ambience with breathtaking confidence.

Such confidence was utterly at odds with the bewildered, isolated and anxious young man he was becoming. Despite the warmest praise, Five Leaves Left sold almost nothing. He played a couple of harrowing live gigs where he seemed petrified and lost. Permanently traumatised by the experience but set on his vocation, he left Cambridge and spent the next year living alone in a Hampstead bedsit, where he wrote Bryter Layter, his second album, on a stipend of £15 a week.

If Drake was as miserable and out-of-sorts in London as is reckoned, it's not readily apparent from Bryter Layter - a richly assured recording, made by fine musicians, by turns jazzy and orchestral, often melancholic, but hinting little at the bleakness ahead. Included here from that album are Hazey Janes I and II (both quite wonderful, the one relaxed and soulful, the other soaring and ageless), Northern Sky and two songs evincing his gentle humour.

One Of These Things First muses on life Tinker Tailor style and Poor Boy sends up the whole notion of the tortured troubadour. "Nobody cares how steep my stairs and nobody smiles if I cross their stiles," laments Drake, whilst Doris Troy and Pat Arnold undercut him with a soulful refrain of "Poor boy, so sorry for himself." Returning to Northern Sky... well, yes, it probably is the most beautiful thing he ever wrote and surely the only song that hints at romantic consolation. Austerely lovely, thanks in no small way to John Cale's Celeste and organ. Still, sales were negligible.

In 1971, Witchseason became absorbed by Island and Joe Boyd returned to America. Drake, increasingly depressed and prone to disappearances, ill-health and bouts of catatonia, underwent hospitalisation and finally retreated to his parents' home in Tanworth-In-Arden. Then, quite unexpectedly, he delivered an album to Island, recorded in two late-night sessions with John Wood.
Pink Moon is a parched and stark record featuring just voice, guitar and the single piano overdub Drake placed on the title track. Included here, it combines biblical foreboding with the sardonic "Saw it written and I saw it say/ Pink Moon is on its way/ And none of you stand so tall/ Pink Moon gonna get ye all." Here, too, are the equally naked yet cryptic Which Will and From The Morning and the mordant Things Behind The Sun.

Two songs are of other provenance. The strange and winsome Time Of No Reply dates from Christmas 1968 and the Five Leaves Left sessions, Black Eyed Dog is one of the fabled four last songs. After Pink Moon, Drake had suffered a complete collapse but did attempt, despite his frailty, a further session with Boyd and Wood in 1974. Black Eyed Dog is probably the most chilling music imaginable: death or something worse has come to Drake's door and he is powerless to resist. "Black Eyed Dog, he knew my name/ ...I'm growing old and I wanna go home", he sings, weak with misery and confusion.
Nick Drake died in his sleep at around 6am on the morning of November 25th, 1974, of an overdose of Tryptizol, a powerful anti-depressant whose dangerous cardiac effects neither he nor his adoring parents foresaw. The verdict of suicide has always been contested. Some say that he was actually happier than he had been in years. Long-time friend John Wood, though, remarked some months before his death that "Nick has terrible trouble leading any sort of life at all these days."

Eulogies about Nick Drake often make romantic noises about his being "not of this world" and the like while ignoring the fact that he was mentally ill. To treat him as some super-cultural sage rather than a gifted, sick, unhappy young man is both to cheapen his tragedy and undervalue his music. This compilation, broad in scope, sensitive to the different styles and periods and a major improvement on 1985's Heaven In A Wild Flower, makes a poignant, irresistible case for this exquisite and forlorn music.
- Stuart Maconie, Q magazine.
Nick Drake only released three albums before overdosing on tranquillisers in 1974, at the age of 26. This may read like some grizzly blueprint for the decline of Kurt Cobain 20 years later, but the circumstances, which led to Drake's death, were very different.

Every last detail of Kurt Cobain's sorry decline was charted in interviews, reviews and hearsay, whereas Drake's death went virtually unreported. Even during his brief career on Island he cut a shadowy figure, only visiting the label to deliver new material and leave a forwarding address for occasional royalty cheques.

It's only with the passing of time that Drake has been given his rightful dues, becoming a heavily influential figure on artists as diverse John Cale, Everything But The Girl and Paul Weller. It seems extraordinary that his graceful, faintly mournful, song writing found no audience during his brief life. Every single track on this collection is a work of genius, from the basic acoustic melody of Pink Moon, to the glorious blend of soul, jazz and folk of Poor Boy. Unlike contemporaries Van Morrison, Tim Hardin and Tim Buckley, there's no over-complicated musical baggage and the simple joy of his songs stand the test of time as well as any other.

Way To Blue shows that we were robbed of a phenomenal talent. Completists might question the artistic value of re-releasing material which is already widely available, but that's little more than a minor quibble. If Nick Drake means nothing to you, go buy this album. It could be the best musical discovery you make this year.
- Lestyn George, NME, 1994.
Track Listing:
1. Cello Song (Drake)
2. Hazey Jane I (Drake)
3. Way to Blue (Drake)
4. Things Behind the Sun (Drake)
5. River Man (Drake)
6. Poor Boy (Drake)
7. Time of No Reply (Drake)
8. From the Morning (Drake)
9. One of These Things First (Drake)
10. Northern Sky (Drake)
11. Which Will (Drake)
12. Hazey Jane II (Drake)
13. Time Has Told Me (Drake)
14. Pink Moon (Drake)
15. Black Eyed Dog (Drake)
16. Fruit Tree (Drake)


Nick Drake - Guitar, Vocals, Piano
Dave Peg - Bass
Dave Mattacks - Drums
Richard Thompson - Lead Guitar
John Cale - Celeste, Piano, Organ
Ray Warleigh - Alto Saxophone
Chris McGregor - Piano
Pat Arnold - Backing Vocals
Doris Troy - Backing Vocals
Danny Thompson - Double Bass
Rocki Dzidzornu - Congos
Clare Lowter - Cello
Paul Harris - Piano
Trsitam Fry - Drums, Vibraphone