Pinkmoon
Island IMCD 94 (1990)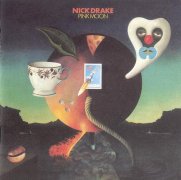 Album available as:-
(Island IMCD 94)
Pink Moon - Nick Drake's latest album: the first we heard of it was when it was finished.
The first time I ever heard Nick Drake was when I joined Island and picked out his first album Five Leaves Left from the shelf and decided to listen to it because the cover looked good.
From the opening notes of Time Has Told Me to the last chord of Saturday Sun, I was held by the totally personal feel of the music, the words, and the vague feeling of intruding on someone's phone conversation.

The first time I ever saw Nick Drake was at the Queen Elizabeth Hall, when he came on with his guitar, sat on a stool, looked at the floor and sang a series of muffled songs punctuated by mumbled thanks for the scattering of bewildered applause from the audience who didn't really know who the hell he was, nor cared too much. At the end of his last song, his guitar was still holding the final notes as he got up, glanced up, then walked off, his shoulders hunched as if to protect him from the embarrassment of actually having to meet people.
The first time I ever met Nick Drake was the week his second album Bryter Layter was released. I went to the old offices of Joe Boyd's Witchseason company in the beautiful Charlotte Street, W1, with the intention of telling Nick how much I liked the album, and that I wanted him to do a couple of interviews.
He arrived an hour late, shuffled in, and shrugged disinterestedly when I suggested a coffee round the corner. When we got there (it was about lunchtime), I asked him if he wanted a cup of tea, something to eat, anything? He looked down at the dried ring of saucerstain on the table, and smiled to himself, meaning 'No'.

For the next half-hour he looked at me twice, said maybe two words (one was to agree to an interview which was done and was a total disaster), while I rattled on at him about every kind of nonsense, trying to get some reaction, until I ran out of voice, paid the bill for my coffee and sandwich, and walked him back to Witchseason.
That was more than a year ago. Since then, I have seen Nick twice. Once, when for some reason still never explained he came to Island's offices, stayed for maybe half an hour, addressed perhaps three monosyllabic words to people he knew from Witchseason, before leaving as mysteriously and silently as he'd come.

The second time was a week or so ago, when he came in, smiling that weird little smile, half-mocking, half-bewildered, and handed over this, his new album. He'd just gone into the studios and recorded it without telling a soul except the engineer. And we haven't seen him since.
The point of this, is this: Nobody at Island is really sure where Nick lives these days. We're pretty sure he left his flat in Hampstead quite a while ago. We have a bank agreement for him so that he's always got his rent money and some spending bread, so there's no need for him to make more appearances than he does.
The chances of Nick actually playing in public are more than remote.
So why, when there are people prepared to do anything for a recording contract or a Queen Elizabeth Hall date, are we releasing this new Nick Drake album, and the next (if he wants to do one)?
Because we believe that Nick Drake is a great talent. His first two albums haven't sold a shit, but if we carry on releasing them, maybe one day, someone in authority will stop to listen to them properly and agree with us, and maybe a lot more people will get to hear Nick Drake's incredible songs and guitar playing. And maybe they'll buy a lot of records and fulfill our faith in Nick's promise.
Then. Then we'll have done our job.

- Dave Sandison - December 1971 (Island's Press Officer).
John Martyn told me about Nick Drake in ecstatic terms and so it seemed the natural thing to do, bag the album when it came in for review that is. It is hard to say whether John was right or not. His music is so personal and shyly presented both lyrically and in his confined guitar and piano playing that it neither does or doesn't come over. Drake is a fairly mysterious person, no one appears to know where he lives, what he does - apart from writing songs - and there is not even a chance to see him on stage to get closer to his insides. In places he is a cult figure, and among the new younger sixth form and college audience there are pockets that go overboard to catch the latest glimmer of news that moves along the verbal news meanderings. The more you listen to Drake though, the more compelling his music becomes - but all the time it hides from you. On Things Behind The Sun, he sings to me embarrassed and shy. Perhaps one should play his albums with the sound off and just look at the cover and make the music in your head reciting his words from inside the cover to your own rhythmic heart rhymes. Nick Drake does not exist at all. Four lines of Know - 'Know that I love you, Know that I don't care, Know that I see you, Know I'm not there'. It could be that Nick Drake does not exist at all.
- M. P, Melody Maker, 01/05/72
After two albums of tastefully orchestrated folk-pop, albeit some of the least demonstrative and most affecting around, Drake chose a radical change for what turned out to be his final album. Not even half-an-hour long, with 11 short songs and no more - he famously remarked at the time that he simply had no more to record - Pink Moon more than anything else is the record that made Drake the cult figure he remains. Specifically, Pink Moon is the bleakest of them all; that the likes of Belle and Sebastian are fans of Drake may be clear enough, but it's doubtful they could ever achieve the calm, focused anguish of this album, as harrowing as it is attractive. No side musicians or outside performers help this time around - it's simply Drake and Drake alone on vocals, acoustic guitar, and a bit of piano, recorded by regular producer Joe Boyd but otherwise untouched by anyone else. The lead-off title track was eventually used in a Volkswagen commercial nearly 30 years later, giving him another renewed burst of appreciation - one of life's many ironies, in that such an affecting song, Drake's softly keened singing and gentle strumming, could turn up in such a strange context. The remainder of the album follows the same general path, with Drake's elegant melancholia avoiding sounding pretentious in the least thanks to his continued embrace of simple, tender vocalizing. Meanwhile, the sheer majesty of his guitar playing - consider the opening notes of "Radio" or "Parasite" - makes for a breathless wonder to behold. If anyone needs confirmation as to why artists like Mark Eitzel, Elliot Smith, Lou Barlow, or Robert Smith hold Drake close to their hearts, it's all here, still as beautiful as the day it was released.
- Ned Raggett (AMG)
Track Listing:
1. Pink Moon (Drake) - 2:06
2. Place to Be (Drake) - 2:44
3. Road (Drake) - 2:02
4. Which Will (Drake) - 2:59
5. Horn (Drake) - 1:23
6. Things Behind the Sun (Drake) - 3:56
7. Know (Drake) - 2:27
8. Parasite (Drake) - 3:36
9. Ride (Drake) - 3:05
10. Harvest Breed (Drake) - 1:38
11. From the Morning (Drake) - 2:31



Nick Drake - Guitar, Vocals, Piano on Track 1