Heaven In a Wild Flower
Island IMCD 91 (1990)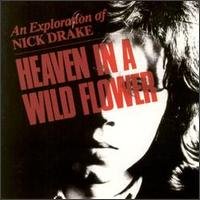 Album available as:-
(Island IMCD91)
As a post-war baby, brought up by stereotypically British parents in the upper-middle class Midlands countryside and educated first at public school before going on to Cambridge, you might have thought life for Nick Drake would have been a comfortable mix of privilege and opportunity. But it wasn't; Nick's life was dramatised by depression and dislocation. He was a shy, private man unable to grasp the methods of setting himself free.

What Nick Drake did achieve though was magical. Discovered by producer Joe Boyd, at the time alchemist to the blossoming British folk scene, in the late 60s Nick recorded three albums for Island. These albums were the mouthpiece for Nick's silent brooding and they are amongst the most haunting, beautiful albums ever made.

Drake's music might finally move out of the cult cubbyhole then, by way of The Dream Academy dedicating Northern Town to him. Heaven In A Wild Flower is a compilation of his work, following on from the 1980 complete-works box set (Fruit Tree, soon to be reissued on Boyd's own Hannibal label), 14 tracks of - if you need any sociological resonance - the most perfect bedsitter music possible, the sound of pure melancholy. Gorgeous melodies, Drake's drifting husk of a voice and fluid, gentle guitar, the lush string arrangements by friend Robert Kirby, the unfettered sadness of Drake's words. Here was a man out of touch with modern, uncaring society that had little time or room for the carefully nurtured romantic visions of his literary-influenced adolesence. "Do you feel like a remnant of something that's past/ do you feel things are moving just a little too fast?" he sings to the protagonist in Hazey Jane I and you know the words are meant for himself.

What eventually elevates Drake's lonely world and works from all other angst-ridden skyriding poets (excepting Scott Walker) of his time was that his songs were squeezed dry of self-pity. Drake's unnervingly perceptive vignettes were just too honest - they were simply the facts of his life.
Oh yes, and those melodies - River Man, Northern Sky, Time Has Told Me. Heaven in a song, a final release for Nick Drake. He died young at 26 from an overdose of anti-depressants. No suicide note was left.
- Martin Aston, 1985

To paraphrase: "Fame is but a fruit tree, so very unsound/ It'll never flourish until its stalk is in the ground." So sings Nick Drake on the first track of this compilation.
Ironically, towards the end of his short, troubled life it seemed as though he had rooted his sanity into something approaching contentment, but all to no avail. On November 25, 1974, Drake died from an overdose of an anti-depressants. The contested verdict was suicide.
With his sudden shuffling off this mortal coil went one of the most gifted and potent songwriters of the Sixties, whose spirit of style and delivery continues to be mirrored by the likes of John Martyn, and, to a lesser extent, Richard Thompson.

More than The Beatles, or any of the rock groups around at the time, Drake, with his fey, wistful and sometimes desolate songs, like Syd Barrett, seemed to sonically epitomize the Britain of that hazy era. Here is a strawberries-and-cream concoction of acoustic guitar and ornate, Delius-like, neo-classical string sections through which Nick's gentle voice often sows seeds of doubt and despair.
'Heaven' draws liberally from Drake's three albums and its release signals a growing present day interest in Nick's work with people such as Dream Academy citing him as a major influence. As with all compilations etc... a punt ride to a poisoned paradise.
- Jack Barron, 1985
Track Listing:
1. Fruit Tree (Drake) - 4:42
2. Cello Song (Drake) - 3:58
3. Thoughts of Mary Jane (Drake) - 3:12
4. Northern Sky (Drake) - 3:42
5. River Man (Drake) - 4:28
6. At the Chime of a City Clock (Drake) - 4:42
7. Introduction (Drake) - 1:33
8. Hazey Jane I (Drake) - 4:24
9. Hazey Jane II (Drake) - 3:41
10. Pink Moon (Drake) - 2:00
11. Road (Drake) - 1:58
12. Which Will (Drake) - 2:56
13. Things Behind the Sun (Drake) - 3:23
14. Time Has Told Me (Drake) - 3:56

Nick Drake - Guitar, Vocals, Piano
Dave Peg - Bass
Dave Mattacks - Drums
Richard Thompson - Lead Guitar
John Cale - Celeste, Piano, Organ
Ray Warleigh - Alto Saxophone
Chris McGregor - Piano
Pat Arnold - Backing Vocals
Doris Troy - Backing Vocals
Danny Thompson - Double Bass
Rocki Dzidzornu - Congos
Clare Lowter - Cello
Paul Harris - Piano
Trsitam Fry - Drums, Vibraphone