(1948-2009)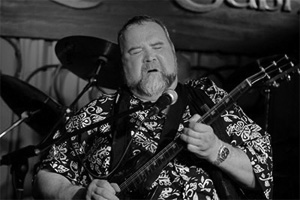 John Martyn has a saying that seems to sum up his attitude to life. 'It's not what you have, it's what you give,' he will tell you in an accent that has never quite lost it's soft Scottish burr. On the lips of many in the narcissistic world, which is the music business, the phrase would sound horribly pretentious and transparently insincere. With John Martyn you know it's from the heart. He's been giving generously with his unashamedly romantic music for more than 30 years now and he doesn't do pretension or insincerity. Fame and fortune have always been secondary considerations to musical integrity.

Glasgow Walker, his first album of new songs in four years, finds him in typically compassionate and giving mood. Lyrical, imaginative and sung in that uniquely sensual voice, it isn't an album of brave new directions or radical departures. Rather it is a triumphant return to what he does best - songs of heartfelt warmth sung with a ripe honesty, which restores one's faith in music as something more than fashionable accessory or marketing opportunity. 'They're mostly love songs, which you'll find on all my albums,' he says. 'I'm an incurable romantic and that can be uncomfortable in these troubled and cynical times. But I'm proud of it and I'm not going to change now.'

Intriguingly, the title of the new record is an oblique reference to his very first album in 1968. 'That was called London Conversation and so Glasgow Walker is sort of related to that. But it's not meant to represent coming full circle. I've still got a way to go before I retire and go fishing.'

As soon as John Martyn emerged from the Scottish folk clubs looking like a teenage cherub more than 30 years ago, it was obvious that he possessed a talent which would not be confined to any single musical genre. At the age of 19 he became the first white artist to be signed to Chris Blackwell's Island label and while his first two albums, London Conversation and The Tumbler were acoustic affairs, his folk stylings were flecked with jazz and blues tinges that hinted at what was to come.

Two more albums, Stormbringer and The Road To Ruin, both recorded in 1970 with his first wife Beverley Martyn followed in quick succession. But it was a series of classic albums beginning with 1971's Bless The Weather that were to see him transcend the boundaries of conventional singer-songwriting and develop a ground-breaking style in which he coaxed the most extraordinary sounds out of his acoustic guitar by attaching an echoplex to the instrument. At the same time he pushed his voice into uncharted territory, using it in the same way Coltrane used a sax or Hendrix a guitar, to convey depths of emotion which his lyrics could only hint at it. "There's a place between words and music and my voice lives right there," he says.
The title track of 1973's Solid Air was written about his friend Nick Drake but the album was also memorable for it's inclusion of May You Never. In that same prolific year, Inside Out was even more adventurous, although he never lost touch with his folk roots, as his mellow 1975 release Sunday's Child proved.
By the time of One World in 1977, he seemed to be on the point of joining rock's aristocracy. The album found him working with Jamaican reggae legend Lee Scratch Perry and Stevie Winwood guesting on almost every track. The next album, 1980's Grace and Danger, had more heavyweight friends and was produced by Phil Collins while Eric Clapton covered his May You Never. Yet for whatever reasons, he was to remain in the critically acclaimed bracket rather than joining the ranks of his superstar supporters with their yachts and tax havens.

Yet he doesn't feel that he missed out at all. "It doesn't annoy me even vaguely because that stuff is a sideshow," he says. "It's neither here nor there. I've accomplished my ambitions. I haven't made loads of money but I've led a very comfortable life, I've had lots of fun and met some beautiful people. I think your spiritual status is far more important than the status of your career."

Perhaps if he had been prepared to compromise his musical integrity he might have had more hits. But he has always refused to play the music industry's games. "I don't suffer fools gladly. I watch these music biz people talking absolute bollocks and I'll tell them it's nonsense. I don't obey the rules and I don't bow and scrape," he admits.

Despite - or perhaps because of - this uncompromising stance, he continued to make albums of extraordinary quality throughout the 1980s. The stunning Glorious Fool, made in the wake of the break-up of his first marriage, and it's equally fine follow-up Well Kept Secret were recorded for Warner's. Then he returned to Island for three evocative albums in Sapphire, Piece by Piece and Foundations which was recorded live at The Forum in London.
His prolific productivity belies the fact that for much of his career John Martyn has had a reputation as a drinker and a roisterer. Indeed, it has become part of the legend. "There have been times. If I'm emotionally upset I get drunk. Divorce brings on the miseries and I've had two of those," he says candidly. "I fell off stage in Spain once because I was drunk - and I got three encores."
By the nineties he was back on track, recording for different labels and devoting a lot of time playing prison concerts - a case, once again, of not what you have but what you give. His first album for Independiente in 1998 was a remarkable collection of covers of some of his favourite songs, ranging from Portishead's Glory Box to Billie Holiday's Strange Fruit. It was called The Church With One Bell in reference to the disused kirk in the Scottish village where he lives. He made the album in order to raise the funds to buy the building and moved in about 18 months ago.

Glasgow Walker was self-produced at his own studio in Scotland and mixed in Kilkenny where his girlfriend lives. In one way, at least, the album represents a departure, for it contains the first songs which he didn't write on a guitar. "Phil Collins suggested I should buy this certain type of keyboard which he uses and that's why it's taken me three years to make the album," he says. "I had to spend 18 months learning how to get a reasonable sound out of it. I still can't really play it."

Much as John Martyn's music has grown and evolved over the years, the sentiments that inspired London Conversation are the same sentiments that fuel Glasgow Walker - the sweet mystery of love, the soaring ecstasy of finding it and the sharp pain of losing it.
He singles out Wildflower as his own personal favourite on the new record. "That's real heart-on-the-sleeve stuff. You can't mistake the emotion in that one." The lyrical opener So Sweet is another stand-out with it's heady African feel. "I don't really know where that came from. The songs take their own shape," he says. The funky Mama T is another favourite, dedicated to his girlfriend, Theresa - or Mama T Razor as she becomes in the song. On the coolly sophisticated Can't Live Without he duets with the impressive young singer-songwriter Kathryn Williams.
But he keeps his best vocal performance for last with the late night blues of You Don't Know What Love Is. "Mostly I give my singing seven and a half out of ten," he says modestly. "But about once every three years or so you hit nine and a half . And when it happens you never really know why it happens." This is surely one of those occasions. He'll be touring again too, allowing the new songs to take their place alongside the perennial favourites such as Over The Hill, May You Never and Couldn't Love You More.

From London Conversation to Glasgow Walker, John Martyn has romanced us with his voice and blessed us with his songs for more than 30 years. But you get the feeling there's a lot of music and a lot of giving still to come.

- Source, Offical John Martyn website.