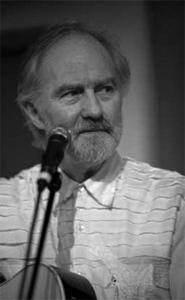 "Harper is a terrific songwriter," said one-time manager Peter Jenner, ''But a bit crazy, like all the best people. The great problem for him was seeing all these people who'd nicked his licks doing so much better than he did. People like Jethro Tull, Led Zeppelin and, to some extent, Roger Waters."
Roy Harper was born on 12 June a long time ago in Rusholme, Manchester. His step-mother, a devout Jehovah's Witness, instilled in him a little more than hatred of religion. When not battling with his parents, or fighting at school, he listened to a lot of blues. "Remember, this was a world that was still ethnically separated. I was thirteen and ignorant of the social situation in America, but I felt these records were better than what my own culture was turning out."
At 14, he formed a group, De Boys, with his brothers David and Harry. At 15, home life became too much and he left, lying about his age to join the RAF, where he performed skiffle at camp concerts and ultimately suffered a self-induced nervous breakdown that let to committal in Lancaster Moor Mental Institute.
After a beating (for dressing without permission) Harper escaped in his pyjamas through a bathroom window. Some weeks later, in London he was arrested and jailed for trying to climb the clock tower at St. Pancras Station and sundry other misadventures.
During 1964, after getting out of prison, he busked in North Africa, Europe and London for a year, then graduated to the folk clubs. ''I spent most of my time being thrown out of folk clubs for not being Nana Mouskouri."
In 1966 a small indie label gave him the chance to record 'The Sophisticated Beggar' (Strike), which included 'Committed', a song celebrating his mental condition. The album attracted not only favourable reviews but also the attention of the larger Columbia Records, for whom he quickly recorded 'Come Out Fighting Ghengis Smith' (Columbia) in 1967. "Some of my songs start out nice and suburban," he said concisely summing up its mood, "and suddenly swing violently across to anarchy".
When the more considered 'Folkjokeopus' (Liberty) appeared in 1969, he was already gaining a reputation as an artist who refused to compromise. "When I go to the States", he speculated, "I'm gonna sit in front of the audience and sing 'I Hate the White Man' knowing that probably someone in the audience will get up and aim a gun at my head but, unless you can put your blood on the streets, you're not worth what you're saying".
With Harper's reputation growing, Pink Floyd's manager Peter Jenner signed him to a long-term deal with EMI's 'underground' subsidiary, Harvest. 'Flat Baroque and Berserk' (Harvest), from 1970, featured contributions from The Nice, and included the aforementioned 'I Hate the White Man', now a Harper classic, plus 'Another Day', covered many years later by This Mortal Coil, Kate Bush & Peter Gabriel.
1970 also saw the tribute 'Hats off to Harper' on the album Led Zeppelin III, written by life-long friend Jimmy Page.
1971 brought 'Stormcock' (Harvest), a more mature work given added distinction by sympathetic, evocative string arrangements from David Bedford. Harper also found the time to write the script and music for the socio-realistic film 'Made', in which he starred opposite Carol White. "They wanted somebody who had something more than just a pop singer. There was an incredible list of guys auditioned, starting with Marc Bolan, Kris Kristofferson, Tony Joe White... it's a very strange project," he revealed.
"I became very ill in late '71 and it put paid to my momentum. By the time I
got better and got my wind back, it was 1975." The problem was a rare congenital circulatory disorder (multiple pulmonary arterio-venus fistuli, veins and arteries joined in the lungs). "I can't sing more than half a song without getting terrible pains," he explained to one interviewer. Ever since he's been running one and half mile a day, it hasn't bothered him much though!
In a subsequent interview he recalled that "I was given seven years to live when I was 31, and then the doctor came back to my bedside a fortnight later and said 'I think I'm wrong'. It's been that sort of situation ever since."
The association with Harvest continued through 'Lifemask' (1973) and 'Valentine' (1974) and on February 14 (Valentine's Day) 1974, Harper played the now legendary gig at London's Rainbow, backed by Jimmy Page, Keith Moon and Ronnie Lane. Soon after, he formed the band Trigger, and supported Pink Floyd at the 1975 Knebworth Festival.
In the same year Harper's vocals were heard on Pink Floyd's 'Wish You Were Here' album, singing 'Have a Cigar'. Roger Waters explained, ''A lot of people think I can't sing. I find it hard to pitch... and Roy Harper was recording his own album in another EMI studio at the time, and he's a mate, and we thought he could probably do a job on it.'' He did.
1974 was rounded out with 'Flashes from the Archives of Oblivion' (Harvest), the definitive Harper live double set, including material from the Rainbow gig, the infamous naughty cover and musical contributions from Ian Anderson of Jethro Tull.
The 1975 album 'HQ' (Harvest) featured Trigger, with Harper again aided and abetted by Bedford's orchestral arrangements, plus the Grimethorpe Colliery Band on 'When an Old Cricketer Leaves the Crease'. ''I found it necessary in the last couple of years to boost the Englishness that's around... re-iterate my own Anglo-Saxonness. Old Cricketer is one of the fruits of that.'' With things once more looking good for him, Harper collapsed on stage during the 'HQ' tour, due to a combination of excesses. Fortunately, an excellent compilation, 'Harper 1970-1975' (Harvest), kept his name in front of the public whilst he was out of action and introduced him to many new fans.
In 1976 Harper bought a farm in Hereford and, the following year, was back at full operating efficiency with 'Bullinamingvase' (Harvest). This classic included vocal contributions from Paul and Linda McCartney on 'One of those Days in England', the nearest Harper ever came to a hit single. ''That was a very good period for me. Then I made another record, as a quick follow-up, which the record company and I began to argue about. The argument went on for three years, so I lost my momentum again.''
That album, 'Commercial Breaks', was never released although much of it did turn up later on the compilation 'Loony On The Bus' (Awareness). This was also the era when Harper found himself the victim of unfortunate business deals and "ended up owing my house to the bank. Barclays bank, Hayes, Middlesex, to be exact." He was obliged to sell the farm.
In 1980 came Harper's acclaimed album 'The Unknown Soldier' (Harvest) which included 'You', a duet with Kate Bush, who has claimed Harper as one of her major inspirations. On the cover of her 'Never For Ever' album, she thanked him for 'holding onto the poet in his music'.
With the Harvest deal at an end Harper formed his own label in 1982, and recorded 'Work Of Heart' (Public) which was chosen by the Sunday Times as album of the year.
Harper's liaison with Awareness Records began in 1985 with 'Born in Captivity' (Awareness) which included the acoustic demos for 'Work of Heart', and marked the beginning of a comprehensive programme of re-issuing of earlier releases alongside inspiring new work. 1985 also saw 'Whatever Happened to Jugula' (Beggar's Banquet), a collaboration with Jimmy Page, which made the Top 20 and revitalised Harper's career. ''There's only one man I know who could be a virtuoso on both (acoustic and electric) and that's Page'' said Harper of his old friend.
Harper re-signed to EMI in 1986, a typically Harperesque love-hate relationship which resulted in the double live album 'In Between Every Line' (EMI), and 1988's 'Descendants of Smith' (EMI) which he describes as ''Partially a creature of the recording company, EMI. I hate the first track, but, if the acoustic version had been put on and Desert Island changed to what it was originally was, plus one or two other little changes, it would be one of my best records. It's over-recorded and produced.''
1990 Roy returned to Awareness to make the blistering powerful album 'Once' (Awareness), with contributions form Dave Gilmour and Kate Bush. The album restored to Harper the status of his most successful years, with almost unanimously favourable reviews and a renewed interest from the media.
Asked, in the wake of 'Once', if emotional turmoil was a fertile breeding ground for musical creativity, Harper replied with typical candour, ''I've never known anything but emotional turmoil... I go from day to day in a kind of frenzied state. I can't wait to do this, that and the other."
In 1991 Roy's son Nick became a part of the touring entourage. Having accompanied Roy on the 1988 'Descendants Of Smith' tour, and at other sporadic gigs, he brought a new dimension to the concerts with his elegant and intricate guitar playing.
1992 and 'Once' is succeeded by 'Death Or Glory?' (Awareness), Harper's most intensely personal, emotional and dynamic album in years. Perhaps ever. The album dealt with a traumatic ending of a nine year relationship which caused Harper to look at himself again, take apart some of his pieces and put them back together after a fashion. He still doesn't know if it's the right fashion, but he feels stronger.
1993 and again without a record company in the UK, Roy secured the rights back to all his albums and set up the label SCIENCE FRICTION. First to come out of this venture was the re-issue of 'Flat Baroque and Berserk', in the form of a limited edition CD in a presentation box, each individually signed, and including a 40 page booklet in which Roy recalls the making of the album and those involved.
1994 - Roy undertook an extensive tour of the UK and Ireland completing over 40 dates, which included an appearance at Fairport Convention's 'Cropredy Festival', along with appearing at a charity concert for Friends Of The Earth, in which Roy played two songs with old friend Ian Anderson of Jethro Tull.
At this point most of the back catalogue was again made available, with additional sleeve notes from Roy along with previously unpublished photographs. July of 1995 the 1975 album 'HQ' is made available for the first time on CD re-mastered from the original tapes, and again including additional sleeve notes from Roy, reviews and previously unpublished photographs.
May 1996 - a 1969 concert recorded at Les Cousins in London is released after being discovered in the Abbey Road archives. This double CD is the earliest known concert recording and features a section found on the 1970 album 'Flat Baroque & Berserk' for 'I Hate the White Man'. Also released this year the long awaited re-release of the classic 1977 album 'BULLINAMINGVASE'.
1997 - Releases for this year include 'The BBC Tapes'. A collection on six CDs of sessions and concerts done for the BBC from 1969 through to 1978. June '97 Roy Harper goes back in to the studio to record his first album since 'Death Or Glory?' (1992).
January/February 1998 - The new album titled 'The Dream Society' is in its final stages.
Recent work:
The 2000 album, The Green Man was an entirely acoustic effort, with help from the Tea Party's Jeff Martin on guitar, hurdy gurdy and numerous other instruments.
In June 2001, Harper celebrated his 60th birthday with a concert at London's Royal Festival Hall, featuring many guest artists. A recording of the concert was released as a double CD shortly afterwards.
In 2002, Today Is Yesterday, a compilation of rare and previously unreleased material from 1964 - 1967, was released.
In 2003, Harper published The Passions of Great Fortune, a large format book containing all the lyrics to his albums (and singles) to date, including a wealth of photographs and commentary on his songs.
In April 2005, he released a lengthy CD single, The Death of God. This 13 minute song is a critique of the Iraq War and features guest guitarist Matt Churchill, who has also joined Harper on-stage at his live performances. May 2005 saw the release of Harper's latest album Counter Culture, a double compilation album featuring songs from a 35 year songwriting period. It received a five star review from Uncut magazine.
Early 2006, saw the release of Roy's first DVD, Beyond The Door. The DVD is composed of De Barras Folk Club 2004 live footage along with images and footage collected by Roy to illustrate and compliment the songs... included is a 10 track audio cd of the songs.
- Source Science Fiction Records.