(1943 - 1999)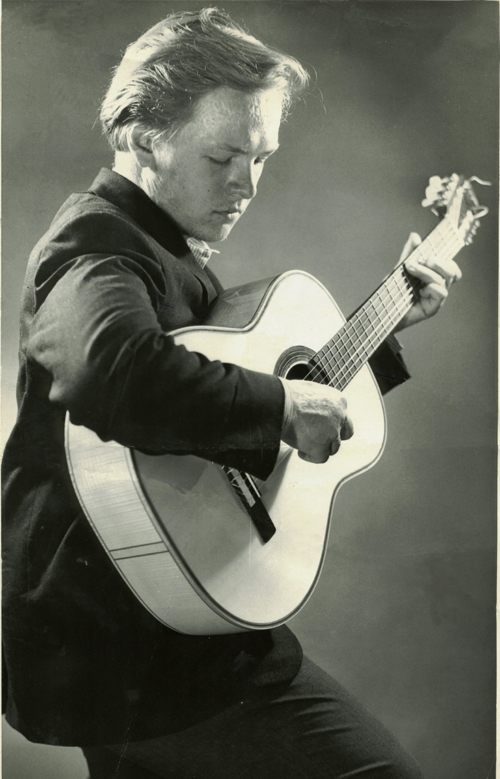 *** Sadly Jackson C. Frank died in 1999 from natural causes.
Rumors. There's a new one once a month. He died in a plane crash back in 1967. He fled America for Sweden and married a woman there. He tends bar somewhere in Montana. Or the best one... he's living in Detroit under an assumed name where he manages a gas station.
Jackson C. Frank. He's the most famous folksinger of the 1960s that no one has ever heard of. As an American singer-songwriter looking for adventure, he left for England in 1965 and while in London influenced scores of young, impressionable Brit folkies with his songs and melodies. He played at numerous folk clubs all over England and stories have been told that he was one of the best performers of his time. Landing a quick record deal, he cut an album of his songs with Paul Simon as producer. The album was an immediate hit over in England and Scotland, but when the album was released in the United States it was a commercial disaster. The album, Jackson C. Frank, has long been out-of-print and is impossible to find. Many have heard of Frank by way of Sandy Denny, who covered his material in concert and on record, and who was also an ex-girlfriend of his. Other artists who have tried their hands at "covering" a Frank song include Nick Drake, Tom Paxton, Bert Jansch, and Dave Cousins. David Fricke, music editor at Rolling Stone, calls him one of the best forgotten songwriters of the 1960s. Where is Frank and what has he been doing for the last 30 years?
After numerous phone calls and quite a few dead-end leads, I finally made contact with Frank himself. He was down on his luck and living in a senior center. We immediately made arrangements to do a phone interview.
Because he is severely disabled (both of his legs are crippled and he has lost his eyesight in one eye), he has been living on state aid. For many years, especially in the 1980s, he was homeless and roaming the streets of New York City or in the hospital receiving treatment for depression. For the past year he has been residing in the Woodstock area. He still makes it to a few clubs on occasion.
Frank's voice is steady and his words are clear, direct, and carefully chosen. "I was born in Buffalo, New York in 1943," he said. "We soon moved to Elyria, Ohio, and it was way out in the country. I was headed in the direction of singing as a kid. I had a very high tenor voice, and it was quite beautiful compared to the way I sing now."
He hesitated, just a little, when he talked about the most catastrophic event of his life. "A few years later we moved to an upstate New York town called Cheektowaga, when I was 11. The brand new school there was made out of brick but it had a wooden annex that was used for music instruction. It was heated by a big furnace. One day during music lessons in the annex the furnace blew up. I was almost killed on that day. Most of my classmates were killed in that terrible fire. I still am badly scarred because of that accident. I spent seven months in the hospital recovering from the burns experienced during the fire."
Recovering from the fire was painfully slow for Frank. His school tutor, Charlie Casatelli, came to the hospital to help Frank with his lessons. He brought along an old guitar to help keep his student's spirits up. It was then that Frank decided that he wanted to play the guitar. He bought a Montgomery Ward guitar with some money his mother let him borrow, and he soon knew a few chords. He practiced until he convinced his mother to buy him an electric guitar. With his first "real" guitar -- a Gretsch Streamliner -- under his arm, he was able to learn enough chords to play rock and roll.
Elvis was a major influence on Frank at the time. His mother took him down south and to Graceland when he was 13 to help him recuperate. The King not only came walking down the driveway and shook hands with Frank, he took him inside Graceland to meet his own parents. It was a highlight for Frank, and an experience that stayed with him long after they left Tennessee and headed back to New York State. By the time he was 16 he had hooked up with a drummer and was appearing as a rock and roll duo in small clubs and concerts throughout the Buffalo area.
Frank had an early appreciation and love for folk songs, especially historical folk songs that told a story. "By the time I was seventeen I was recording songs for friends. I had a whole album of Civil War tunes. I began collecting old Civil War songs with a passion, and I would record the ones I could sing. I remember going into a studio back then and cutting a side of tracks for $7."
One little known fact about Frank was his involvement with Steppenwolf's lead singer, John Kay, back in the 1960s. He met Kay through his involvement with The Limelight, a local Buffalo area coffeehouse. The two of them would hang out there and catch the local folk and blues musicians that would drop in. After watching a local favorite, Eric Andersen, make it big as a singer-songwriter, Kay and Frank thought that they, too, could strike it rich on the folk circuit.
But Frank was also practical enough to think about applying to college in case the folk singing career didn't pan out. He was accepted at Gettysburg College and was thinking about majoring in journalism when another event changed his life forever: insurance money poured in to compensate Frank for the injuries he received at the Cheektowaga fire. College and journalism suddenly didn't matter much any more. "When I was 21 years old I was awarded $100,000 in insurance money. At the time, it was a small fortune. John Kay and I took off to Toronto and we tried to spend as much money as fast as possible. I bought a Jaguar straight out of a showroom. We went all over the Northeast dropping into clubs and meeting musicians. We were heavily into the blues back then. We listened a lot to John Lee Hooker, Muddy Waters, Sonny Terry, Brownie McGee, and the Library of Congress collection of blues artists."
Frank headed to England originally not to play music, but to buy a car. He had read in a car journal that the best car values were in England, so he went to London to look for some fancy cars. He brought his guitar along and on board the Queen Elizabeth, Frank began taking his singing and songwriting seriously. As the days went on, Frank found that he had one particular melody in his head. Grabbing his guitar and a notebook, Frank wrote the words and music to "Blues Run the Game," a song that describes how he felt about life and his future at the time. "Blues Run the Game" continues to be, even today, the song that seems to mean the most to Jackson C. Frank fans. The story of a young man haunted by his past with too much money and gin leaves a deep impression.
Arriving in England in 1965 with his guitar, a suitcase of money, and a craving to pick up a new Jaguar, Frank was soon interrupted by the sights and sounds of "Swinging London." He quickly forgot about buying cars and instead concentrated on the folk scene there. Outgoing and friendly, Frank made a number of good contacts while visiting the folk clubs. "I met this wonderful woman named Judith Piepe. She told me she wanted to introduce me to two singers who were staying in her flat. They were Paul Simon and Art Garfunkel. By this time I was writing and performing my own material. So I played my stuff for the two of them. Simon liked my songs so much he offered to produce my next record. I quickly said, 'Yes!'
"I recorded my album in under three hours in a CBS studio on New Bond Street in London. I remember hiding behind a screen while I was singing and playing, because I was just a little nervous and I didn't want anyone to see me. 'Blues Run the Game' didn't take long to record. 'Don't Look Back' was inspired by a murder down south and how the criminal was free on bail. Back in the 1960s there was a lot of injustice down in Alabama, so the song deals with white and black issues. It's my one and only protest song.
" 'Kimbie' is a traditional song, and I gave it my own touch. I heard the song a lot when I was traveling up in Canada, so I decided to include it on my album, too. Paul was including a lot of traditional material like 'Parsley, Sage' in his performances, and I wanted to use an old melody, too. 'Yellow Walls' is about an old house I used to live in near Buffalo. It's about leaving home and taking off for the big cities and colored lights. Al Stewart can be heard doodling in the back on guitar. He never received proper credit for that, I'm afraid, but that's him.
" 'Here Come the Blues' is pretty much a straight-ahead attempt at writing a blues song. It's got some good chord changes. I've always liked 'Milk and Honey.' I know Sandy Denny's version, and it's great. If you listen to my recording, you can hear a real blooper. I wanted to say 'four' seasons, but it came out 'three.'
'My Name is Carnival' is one I'm still very proud of. I'm surprised that it wasn't picked up as cover material because it's got a great tune and the lyrics are interesting. The song points out the bittersweet nature of being part of a traveling circus. My first attempt to do a very serious song was 'Dialogue,' a song that seems like cabaret now. I was headed toward a European influence with weighty lyrics. In the other direction, 'Just Like Anything' is a pure nonsense song. I was aiming for a some comic relief after 'Dialogue.' The last song on the album, 'You Never Wanted Me,' is all about a break-up in a relationship."
When Frank's first album came it was enthusiastically received by the folk community. John Peel played it on his BBC radio show quite often, and talked it up. His listeners called so many times that Peel invited Frank to come into his studio to record a live radio show. This was the beginning of a series of radio concerts that Frank did in the United Kingdom. He was also invited to do television shows and play songs from his first album.
Frank also met, around this time, another young folksinger who was trying to strike it big in the coffeehouses. He remembers she had this powerful voice and a real ability to interact with the audience, a special talent for capturing hearts while she sang. Her name was Sandy Denny, and right from the start they became close friends. "When I first met Sandy Denny she was a little insecure and somewhat shy. We were both hanging out at a club in London called Bunjies, which is still there, by the way. Sandy was working as a nurse and she was just starting out on the folk scene. She was learning the ropes about performing in front of an audience and she was building up her songs. She slowly built up confidence and expanded her material. She became my girlfriend and I got her to quit the nursing profession and stick to music full time. I remember Sandy trying out her new songs for me, like 'Who Knows Where the Time Goes' and 'Fotheringay,' and I saw right away that she had tremendous potential."
In 1965, London was the rock music capital of the western world. The rock scene was firmly established by the Beatles and the Stones, and already the word was out that the folk scene was going to be the next happening trend. Dozens of the most influential American folk artists of the day were going to London, including Bob Dylan, Joan Baez, Pete Seeger, Buffy Sainte-Marie, Ramblin' Jack Elliot, Tim Hardin, and Big Bill Broonzy. Frank managed to rub shoulders with many of them as he made the rounds of folk clubs. "Tom Paxton was another folksinger I met back in 1965. We hung out together. I also recall meeting up with Mike Seeger and Dave Van Ronk, giving them tours of London in my car. I was helping out the owner of the Cousins Club by booking American acts. I met a lot of famous artists and performers just by being involved with Cousins. I remember also booking some of the better known folkies in Great Britain like John Renbourn, Bert Jansch, and John Martyn. I tried my best, because I had money at the time, to give some meals to some of the poorer singer-songwriters who came tramping through Cousins."
Frank spent from 1965 to 1967 playing clubs and venues and doing well on the concert circuit. Around 1968, he tried putting together songs for a second album, but he found the audience less attentive and responsive with his new material. The record-buying public was shifting away from quiet and introspective folk songs toward hardcore rock. This trend didn't help his album sales, and soon he found that people simply stopped buying Jackson C. Frank. He was so despondent that he shelved his new songs and any thoughts about making a second album. And the news from America was far from good. The album didn't sell at all, and his management company soon dropped him. By this time, with his insurance money running out, Frank was forced to live on meager wages from playing the occasional gig as an opening act. His songwriting creativity was missing, and songs that at one time took minutes to write were now left incomplete and half scrawled on torn paper. He began a slow slide into despair as he wrestled with problems of depression. He took a bus into New York City, hoping to find Paul Simon, and ended up sleeping on the sidewalks. A series of medical problems struck Frank, which left him destitute. He became a ward of the state, moving from one tenement building to the next. For awhile, his depression became so severe that he was institutionalized. He dropped out of sight completely. Friends from England looking for him were told he was "gone."
By 1977, with his health somewhat improved, his depression under control, and a new outlook on life, Frank tried to release a second album. He tried to market the album to several record companies and publishers, but they were not interested. They told him his songs lacked market appeal and weren't commercial enough. Instead of working on newer and better songs and touring to promote them, Frank fell into a new, harsher depression. His medical problems, initiated by the Cheektowaga fire, got much worse, until he once again was hospitalized for both physical and emotional reasons.
Until Jim Abbott came into his life. A local Woodstock area resident, Jim had heard some of the stories surrounding Frank but assumed, like everyone else, that Frank was no longer alive. His interest in Frank was aroused when, shopping in a small record store, he found an album by Al Stewart bearing the inscription: "To Jackson, all the best, Al Stewart." Making inquiries, he discovered that Frank would come into the store every so often from NYC and sell used records. Abbott was able to make a connection with Frank and bring him out of a state housing project in the Bronx and into a senior center in Woodstock. He also tracked down past royalties owed Frank to help supplement Frank's welfare check.
In January, 1995, Frank made yet another tape of demo material. He is playing open mikes now in the Woodstock area, and is anxious to practice his new songs. He is still picking up some royalty money, very limited, from countries such as England, Germany, and Denmark, where his songs from 1965 still enjoy a measure of success amid singer-songwriters there.
Those wishing to contact Frank can do so through Jim Abbott [205 Glendale Ct Stockbridge, GA 30281] or email jimbob12404@yahoo.com.
- T.J. McGrath (From Dirty Linen #57 April/May '95)