(1948-1974)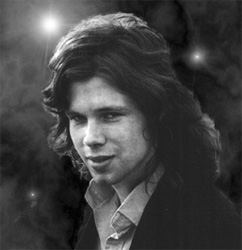 If rock has an equivalent to the romantic poets of the early nineteenth century, Nick Drake may fit the bill as well as anyone. The brooding wistfulness, the bittersweet longing for the past, the cloud of despair at ever quite fitting into the imperfect material world-the singer-songwriter delivered all of the above in a low-key, melodic fashion that disguised the turbulence of his musings. Tragically, he fulfilled another tenet of the romantic myth by dying at a young age, in circumstances that indicated a possible suicide.
There's still much debate about whether Drake's death in 1974 at the age of 26 was indeed by his own hand. But almost all would agree that the folk-rocker was ill-equipped for a contented existence on this earth, let alone survival in the volatile industry of popular music. Unable to effectively communicate to other human beings except through his music, he made three brilliant albums in the late '60s and early '70s that found few listeners during his lifetime. In the matter of another tormented British genius, Syd Barrett, these have generated a cult following among old and new generations that simply grows and grows without leveling off. There are probably many more times as many hardcore Drake fans now, over two decades since his death, than he had at his prime.
Early home recordings by Drake in the late '60s (now bootlegged) show a promising British folkie in the mold of Donovan and less celebrated British guitarists such as Bert Jansch, mixing covers of '60s warhorses like "Let's Get Together" with his own more idiosyncratic compositions. After seeing Drake support Country Joe McDonald at the Roundhouse in London, Ashley Hutchings of Fairport Convention recommended the Cambridge student to producer Joe Boyd. Via his work with Fairport Convention and Incredible String Band (among others), Boyd, a young American based in London, had already built a resume as the top producer on the British folk-rock scene.
Drake was signed to Boyd's Witchseason Productions company, and Joe was in the producer's chair for Nick's first album, Five Leaves Left (1969). This was an astonishing debut for a 21-year-old, with a far greater compositional and musical sophistication than the acoustic-oriented tunes on his home tapes. Debts to Donovan, Tim Buckley, and Van Morrison were obvious, but run through a peculiarly British filter and Drake's distinctively jazzy, breathy vocals.
Working with a floating cast of session musicians including bassist Danny Thompson (moonlighting from top British folk ensemble Pentangle) and (on one track) Richard Thompson, Drake sang with a smoky, measured tone that didn't suggest detachment nearly as much as a sort of foggy melancholy. Read on their own, the lyrics had a downbeat longing verging on despair. But combined with the lovely, baroque orchestration (fellow Cambridge student Robert Kirby, who had never worked in a studio before, did most of the arrangements), the songs grew into something more complex and intriguing. Rarely had such a bitter pill been served in such a soothing package.
Boyd takes care to praise an oft-overlooked facet of the singer's music: "When you put aside the singing, lyrics, the arrangements, and everything else, and you just listen to the guitar playing, you can hear that Nick was an extraordinary musician with very, very strong technique, big strong hands. The guitar playing was incredibly clean and accurate and inventive. The way he developed his tunings, some people still haven't figured out some of his tunes."
Although Drake's career encompassed only three proper albums, his discography is remarkable in that each of the full-length works was quite different from each other. What's more, if you gather a roomful of Nick Drake devotees and ask them to choose their favorite recording, the votes would most likely be evenly split among the three. Critics thus identify Drake's "peak" at their peril, but it may be that Bryter Later (1970) was his most accessible work. From a purely musical viewpoint, it's his most diverse, with Dave Pegg and Dave Mattacks from Fairport Convention providing most of the rhythm section work, and appearances by John Cale and Richard Thompson; female soul singers Doris Troy and Pat Arnold even do backup vocals on "Poor Boy." Robert Kirby again adds some beautiful classical-influenced orchestral arrangements.
The bemused, melodic grandeur of Drake's peculiar melancholia remained unfettered. The singer-songwriter took a most unusual chance by dispensing with lyrics and voice altogether for a few orchestrated instrumental tracks, which rate among the most appealing selections on the record. Joe Boyd - a man who has produced records by Pink Floyd, R.E.M., Richard Thompson, and several other legends - goes as far as to say, "It's one of those albums that I can listen to without ever thinking, 'I should have done this better.' I enjoy it every time I hear it."
Drake had left Cambridge to pursue music full-time in London after Five Leaves Left, but it was soon apparent that Nick was rather too introverted to play the pop star game. He rarely played live to support the record; he probably gave no more than a dozen concerts in all after his debut LP, and never played at all in public after 1970. There would be only one unrevealing interview in the music press. In an effort to make Nick's songs more widely known in the industry, Boyd even engaged Elton John-then a struggling singer-songwriter himself-to sing demos of several of Drake's songs. (The results, along other John-sung demos of songs by John Martyn and the Incredible String Band's Mike Heron, have since been bootlegged.)
Oddly enough for such an uncompromising artist, Drake placed a high value on commercial success, and when Bryter Later sold in very modest numbers, he became severely depressed. The already introverted musician moved back to his parents' house and began withdrawing from most forms of social contact. His form of mental illness took a more subdued, less flamboyant aura than that of another legend of the era who withdrew into seclusion, Syd Barrett. Drake would sit motionlessly for hours on end or wander aimlessly. In her biography, French pop singer Françoise Hardy remembers how Nick sat in a corner, never saying a word, when he watched her do a session for an album she was making in England in the early '70s. Drake, in Hardy's words, "was truly the champion of inhibition." And, perhaps worst of all, he wasn't able to write more songs.
"When we were doing Françoise's album, Nick Drake came up and sat next to me in the control room," remembers guitarist Jerry Donahue. "I was just making some friendly conversation. He was very quiet in between questions, there would just be a gap. Then I'd ask another question. And each time I did, his eyebrows would raise way up, his eyes would widen, and it was like an effort to kind of get the answer out to satisfy the situation at hand - 'I've gotta deal with this - somebody's putting me on the line, they've actually addressed me and asked me a question. I will do my best to get an answer out.'
"Then having successfully managed to crank an answer out, he would withdraw again into silence, until which time I might feel inclined to ask him another question, and the same sequence of events would take place. It was very bizarre. I've never known anybody like him. And he wasn't unfriendly. But you just really felt like you were putting the guy on the spot when you'd ask the most simple harmless questions. I thought he had a real rough time with himself. It was impossible to get to know him, certainly in that brief encounter."
Boyd knew Drake about as well as any of his musical associates-which is to say, he only knew him up to a point. "He was expressive, but very quietly and very shyly," he observes. "He'd never behave as what you would call an extrovert. Sometimes you'd do something in the studio and I'd sort of look around and see what Nick thought of what somebody was doing as an overdub, or something like that. He'd be looking at his shoes, he'd kind of stutter a couple of times-'well, uh, I'm not sure I like this.' He was very clear, but the texture of the behavior was never extroverted. It was always very quiet and sort of self-contained, hesitant about voicing."
Boyd himself was no longer available to work with Drake after Bryter Later, having moved to Los Angeles to work for Warner Brothers. "The reasons he wasn't successful during his lifetime were a combination of fairly simple things," he adds. "First of all, he didn't build up a live following or tour. The example of someone who I guess could be a kind of parallel to Nick in some ways and did do well [was] Leonard Cohen. His records were released in North America at the height of the boom in FM radio, when people were playing a lot of album tracks. He didn't tour either. He didn't perform until well after he had become famous.
"Because Nick's records weren't released in America until the early '70s, it was really down to England to make him a star. He fell, unfortunately, in the period [of] the demise of [pirate radio]. All you had was BBC Radio One and there wasn't really much room for album tracks or for artists like Nick on radio in Britain. Eliminate live performances, radio exposure-I mean, there isn't a lot there to get what he did across. But at the same time it's also true that I think the music doesn't reach out and grab people by the lapels. It takes a bit of getting used to, and it's also very English. I think for America at that time, a kind of unassertive introspective English musician wasn't necessarily going to get a lot of attention."
Drake did rouse himself out of his depression to record his final album, Pink Moon (1972), with John Wood, who had engineered the first two records. The ten songs were recorded in just two sessions, and often in just one take. Featuring only Drake and his guitar (there was a piano overdub on the title track), it was not just Nick unplugged, but utterly naked. His previous work could have never exactly been described as happy-go-lucky, but this was certainly his bleakest effort. Writing as though each word cost a shilling, Drake chose to say more with less: the lyric of one song ("Know") is but 18 words in its entirety. The least commercially viable of Drake's albums, it is also the one that commands the most devout champions among his fans.
Drake himself probably suspected that Pink Moon wasn't bound for Top of the Pops, delivering the tapes to Island Records' receptionist without a word (Island didn't realize it had the album until it opened the package after Drake left). Shortly after its release, he checked himself into a psychiatric hospital for five weeks. Thereafter he wrote little music and rarely ventured out, except to see friends like fellow British folk-rock guitarist John Martyn, who has added to the chorus of describing Drake (in Record Collector) as "the most withdrawn person I've ever met."
Drake did manage to put down four more songs (since issued on the Time of No Reply collection), but the sessions for a prospective album went into limbo. Françoise Hardy once asked him to write for her, but nothing came of it. On November 25, 1974, with the fate of the fourth album still undetermined, Drake was found dead in his bedroom in his parents' house after taking an overdose of antidepressant medication. He left no note, and it was ruled a suicide by his coroner, although the verdict was disputed by his friends and family.
Yet Drake's cult has now grown to the point where he has sold many more records since his death than he did in his lifetime. Famous musicians such as Jackson Browne, Peter Buck of R.E.M., and Tom Verlaine have cited their admiration for Nick's work. But the bulk of his acclaim may come from the alternative rock underground, which finds an instant affinity with his inability to fit in the world as we know it, even if few are able or willing to specifically emulate his solitary sound.
"The reason why it's successful now is because it's too good not to be," summarizes Boyd. "There are a lot of things which feel like they're a part of their time, and they have a fascination for that reason. But I think Nick's music doesn't really feel that way. His songs were very rarely covered, which I think is partly due to his uniqueness and the fact that what he did was completely outside all trends and movements. It feels kind of outside of time in a way, so it doesn't date. People, once they sit down quietly and listen to a Nick Drake record, very rarely lose interest after that."

- Copyright © Richie Unterberger (A Chapter in "Unknown Legends Of Rock 'n' Roll")